The Meerlust Mixed Case

What wine dreams are made of, a curated case of Meerlust reds! This limited edition case includes two vintages of the iconic Rubicon and the latest vintage of the Meerlust Red.
2 x Meerlust Rubicon 2018
2 x Meerlust Rubicon 2020
2 x Meerlust Red 2020
R2950 / 6 bottle case - Shop HERE
Waterford Antigo

A relatively new kid on the Waterford block, the Antigo is a smooth, Cabernet Sauvignon-driven red blend. The first vintage of the Antigo was so well received by the market that the wine sold out in just nine months. Waterford knows its way around Cabernet Sauvignon but this Bordeaux-style blend has a softer profile for those wine drinkers who don't enjoy the rough tannins of a traditional Cab.
R1160 / 6 bottle case - Shop HERE
The bestselling Red Mixed Case
Isn't it fun to try something new? The popular Red Mixed case lets you buy and try 6 different red wines. No more standing in front of the wine shelves struggling to choose wines, and you just might find a new favourite in your mixed case of red wines!
What's in the case?
Alvi's Drift Signature Shiraz 2020
Boplaas Cabernet Sauvignon 2020
Warwick The First Lady Pinotage 2021
Villiera Merlot 2020
Raka Sangiovese 2019
Darling Cellars Eveningstar Cinsault 2020
R760 / 6 bottle case - Shop HERE
Franschhoek Cellar Railroad Red
The Franschhoek Cellar Railroad Red blend deserves some extra points for punching well above its weight in the price category. Perfect for your mid-week casual dinner or just relaxing with a glass of wine after work on a chilly day.
R434 / 6 bottle case - Shop HERE
Raka Biography Shiraz

Why write your life story if you can bottle it in wine form instead? That's just what Raka's founder, Piet Dreyer, did. The result is a beautiful "biography" - intriguing, full of character and spice. The Raka Biography Shiraz 2020 is perfect to enjoy in front of the fire or in good company around the table.
R1125 / 6 bottle case - Shop HERE
Chamonix Rouge
On those rare winter days where the sun makes a brief appearance and you squeeze in a braai, you will want to reach for a bottle of Chamonix Estate's Rouge 2021. Approachable but elegant and very smooth on the palate.
R555 / 6 bottle case - Shop HERE
Perdeberg The Dry Land Collection Fortitude Fortified Chenin Blanc
It was love at first sip when we tasted the newly launched fortified Chenin Blanc from Perdeberg in 2022. You will love the flavours of litchi, candied citrus and undertones of honeycomb. Sip slowly on its own, or serve with desserts, a cheese platter or butternut soup.
R865 / 6 bottle case - Shop HERE
Rietvallei Red Muscadel
What is winter without some Muscadel? Rietvallei's Red Muscadel is full-bodied and rich while the acidity complements and balances the sweetness. The perfect winter warmer night cap to enjoy in front of the fireplace.
R715 / 6 bottle case - Shop HERE
tastewine tomorrow Red Mixed Case (Johannesburg and Pretoria only)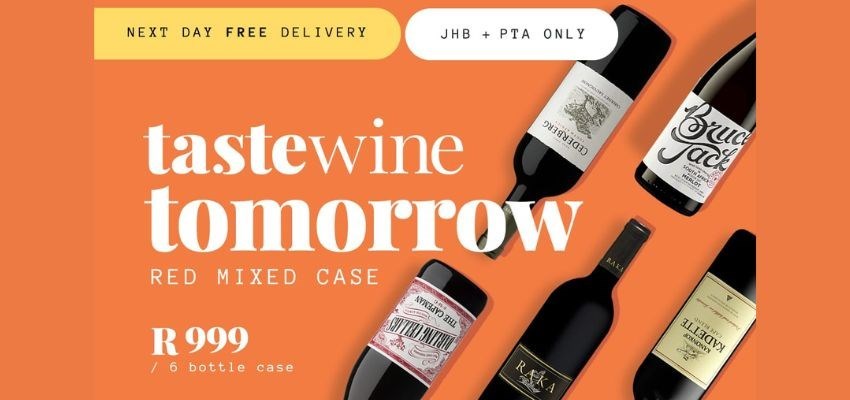 We know our Johannesburg friends need some extra warming up and we're sure that Pretoria is also feeling the chill so tastewine.co.za has an exclusive offer on a limited mixed case! Buy and try the tastewine tomorrow Red Mixed Case with FREE next day delivery for only R999!
What's in the case?
Kanonkop Kadette Cape Blend 2020
Bruce Jack Merlot
Raka Pinotage 2020
Alvi's Drift Signature Shiraz 2020
Darling Cellars SMG 2021
Cederberg Cabernet Sauvignon 2020
Shop HERE
*This product is exclusively available for sale in the Johannesburg and Pretoria region.