Compagniesdrift is tasting sweet success with their new release natural sweet wine, the Compagniesdrift Albertus.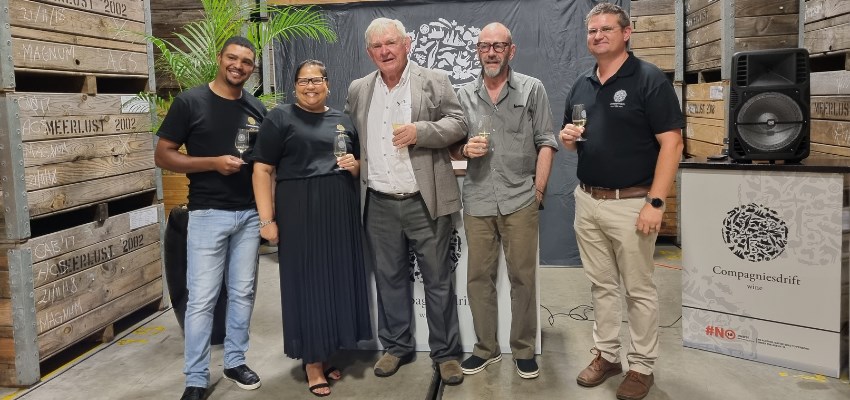 This beautiful wine, launched during a prestigious event at the company's facility in Stellenbosch, pays tribute to Compagniesdrift's two mentors, Albertus Nicolaas de Waal (also known as Albie) and Johann Albert Reinecke Myburgh (also known as Hannes), both from Meerlust. They have played an important role in the growth and development of the company and its people.

"Mentors are important and often shape our lives, careers and business success, therefore it seemed appropriate to name the wine after them," says Ilse Ruthford, managing director of Compagniesdrift.

In researching the name, Ruthford found that it means powerful and complete, associated with a strong planning ability, boldness, independence and a passion for justice. Albertus also means courage and endurance to accomplish the impossible dream.

In his acceptance speech, Albie de Waal thanked Compagniesdrift for bestowing this honor on himself and Hannes Myburgh in this manner. "It has been 12 years since we became involved in Compagniesdrift and together we have been successful in building an asset base which we can now take forward."
More about the wine
The Albertus was made in late-harvest style and aged in the bottle for 14 months. "The wine, a beautiful golden straw color, is unique in the sense that different vintages were aged in barrel and in tank and it was blended to produce this natural sweet wine from a single vineyard plant," said winemaker Altus Treurnicht.
On the nose, distinct aromas of the Muscat grapes such as Turkish delight and rosewater and hints of fresh ginger accompanied with apricot, citrus and marmalade notes come to mind. On the palate, the wine shows a great balance between acidity and fruit sweetness with a fine tannin structure extracted during maturation in the barrel. On the finish, a pleasing bitter grapefruit aroma ensures the wine stays in the mouth long after the first sip.
Enjoyed on its own or paired with a variety of cheeses, Albertus is an ideal gift for special occasions.
To add to the prestige of the Albertus, only a limited number of bottles will be available on the market. "We believe that this will be a sought-after wine that will create a pleasurable experience for all who consumes it," says Ruthford.
Albertus is available at exclusive stores, from Compagniesdrift's Farm and Wine Shop or the online shop via their website www.compagniesdrift.com/shop
Compagniesdrift also produces a beautiful Chardonnay, Chardonnay Pinot Noir and Cabernet Sauvignon Merlot blend that is available from national retailers.

Enquiries can be directed to Ilse Ruthford by email ilse@compagniesdrift.com or landline 021 843 3902.